News
04/05/2020

TLD – Open for Business.
In these extremely challenging times and as governments around the world have implemented measures to contain this Covid-19 crisis, at TLD, we have been taking strict precautions to protect our colleagues and their families.
Whilst implementing these measures (strict sanitation and cleaning protocols, workplace distancing, temperature checks, etc.) our manufacturing sites and service centres around the world are fully operational.
We are extremely proud of and grateful to our teams who come on site every day to ensure business continuity. This is our DNA, this is "Local Support – Total Commitment"
Our field service team is here to support you – either remotely or directly on the ramp whenever feasible. You will find us here – https://www.tld-group.com/contacts/
Our dedicated spare-parts teams are also just a phone call away – available to answer any query and ready to expedite your shipments of critical parts for your operations.
#localsupporttotalcommitment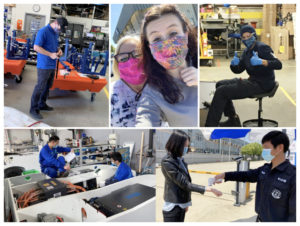 30/04/2020

TLD GSE RECOGNISED AS CONTRIBUTING FACTOR IN SWISSPORT ENVIRONMENTAL PROGRAM
TLD ground support equipment (GSE) has been recognised as a major contributing factor to the success of the Swissport environmental program, as stated within their recent 'Sustainability Report 2019'.
Swissport, the largest provider of airport ground services, has been aware of its environmental responsibilities for some time – embarking on a 5 year fleet modernization program in 2016 to focus on efficiency, safety and emission reduction.
Since 2016 the use of electric GSE has almost tripled with the TLD battery-powered pushbacks singled out as some of the most impressive and powerful GSE in regular deployment.
Swissport acknowledged that TLD were at the forefront of the innovative electric GSE revolution with equipment such as the TPX-100-E towbarless tractor – capable of saving 8 tonnes of CO2 emissions per year.
The ground handler also states that it has witnessed a 40% reduction in fuel consumption as a direct result of embracing electrically powered GSE.
TLD is committed to working alongside its partners to design/ develop/deliver the most advanced aviation solutions to meet all environmental, social, and governance (ESG) Criteria.
The full Swissport report is available to download HERE.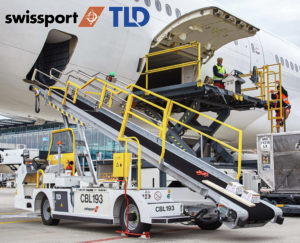 23/04/2020

TaxiBot Semi-Robotic Towing Tractor to Trial at Schiphol Airport
Today Schiphol and Smart Airport Systems announce it's trial for sustainable taxiing at Schiphol airport in cooperation with the partners Air Traffic Control Netherlands (LVNL), the Ministry of I&W, Corendon Dutch Airlines, KLM, Transavia, EasyJet and handlers Dnata and KLM Ground Services.
The technology behind this trial, the TaxiBot, is provided by Smart Airport Systems (SAS), a sister company to the prominent designer and manufacturer of airport ground support equipment TLD and IAI (Israël Aerospace Industry).
The mission of SAS is to provide innovative sustainable solutions for airlines and airports to help them reduce CO2 and NOx emissions, generate fuel savings, and increase the operational efficiencies at airports. For this SAS has developed several solutions that are available today and bring significant emission reduction.
Maxime Mahieu, CEO of Smart Airport Systems commented: "We are extremely pleased with this test of sustainable taxiing in cooperation with one of the world's most innovative airports. We are impressed by Schiphol's motivation which reflects in quality of the partnership they have created. All key stakeholders are aligned to show that SAS existing solutions can bring significant environmental improvements today" .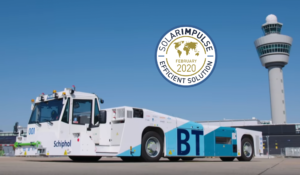 Hassan Charaf, Head of Innovation at the Royal Schiphol Group, commented:
"This study fits with our ambition to be the most sustainable airport in the world. I am proud that together with our partners we are exploring what sustainable taxiing at Schiphol can mean".
The TaxiBot trial is part of an on-going feasibility study on sustainable taxiing at Schiphol Airport. Additional criteria will include how sustainable taxiing can be incorporated into daily operations, whether it can be achieved extensively across the airport and implementation timescales.
The 'TaxiBot' is a semi-robotic tow vehicle developed by TLD and IAI, fully controlled by the Aircraft pilot when it tows the aircraft from terminal to runway, and back, without the use of the aircrafts engines. The hybrid TaxiBot is powered by a combination of electric and diesel engines that allow it to consume 95% less fuel during taxiing than the more commonly used aircraft engines. The TaxiBot is already in operation in India in both Delhi and Bangalore airports.
At Schiphol Airport aircraft engines are used on average 14 minutes to taxi departing aircraft and 9 minutes for arriving aircraft.
As aircraft engines still require spooling to their optimum operating temperature prior to take off, the saving brought by the TaxiBot are estimated to be between 50% and 85% of the average fuel consumption normally associated with the taxiing mission.
There are also a number additional benefits including – a reduction in noise pollution, CO2 and NOx emissions and foreign object debris whilst also delivering huge environmental advantages.
The trial is set to run until the end of June after which the study will conclude in Autumn 2020.
Learn More
23/04/2020

AES Ready to Support the International GSE Markets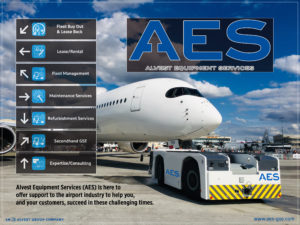 An Important Message From Alvest Equipment Services
COVID-19.
With the fallout from this pandemic possibly lasting longer than originally anticipated the hardest hit industry is our aviation family.
The road to recovery will require some careful planning and patience.
Alvest Equipment Services.
Alvest Equipment Services (AES), an Alvest Group company, offers a full range of services for the ground support equipment (GSE) and the airport environment.
AES is ready to offer support to our customers and partners to assist you in braving the financial hardships allowing you to steadily recover, and return to our industry stronger than ever.
AES offers tailor-made services with high quality standards, delivered with strong technical knowledge and supply chain expertise.
How we can assist you.
If long term planning and financial forecasts are being challenged, AES can offer you short-term rental and operational lease solutions.
If your plans lacks the capital funds to be viable, we can offer you a fleet buy out and lease back solutions with or without a full maintenance service agreement.
If you have limited CapEx to renew your fleet, we have a number of equipment overhaul options available for you.
AES has the full backing of the Alvest Group, and access to an impressive variety of GSE and financial services to aid you through these challenging months…talk to us and find out how we can help your business.
Contact us HERE
AES – Always ahead of your GSE Services Requirement.
22/04/2020

'TractEasy' Enters Final Rounds of IFOY Intralogistics Awards Category
The IFOY Awards are not only considered to be the largest but also the toughest intralogistics test in the world. At the IFOY test days on the exhibition grounds in Hannover, Germany 16 products and solutions nominated for the IFOY AWARD from 15 manufacturers underwent a whole week of elaborate, multi-stage testing. 27 jurors from 19 nations put the nominated devices and solutions through their paces.
There are 13 categories, that cover almost all areas of intralogistics including special vehicles, automated guided vehicle systems (AGVs), shuttles, robots, software and apps.
TLD and Easymile joined forces to create the 'TractEasy' autonomous baggage tractor that is currently on trial at a number of large international airports. The 'TractEasy' been entered into the Automated Guided Vehicle (AGV) & Intralogistics category where it has progressed to the final rounds with the results being published in July 2020.
The 'TractEasy' also enjoyed a feature in the official IFOY MGZN that was published on Monday – https://ifoy.org/en/ifoy-mgzn
We wish all the TLD, and SAS, personnel involved with the IFOY Award the best of luck!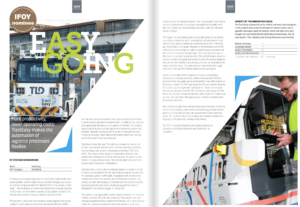 20/04/2020

Alvest Continue to Assist in Covid-19 Pandemic.
Alvest is proud to be supplying key GSE and services at airports around the world in support of the aviation industry and its essential logistical role.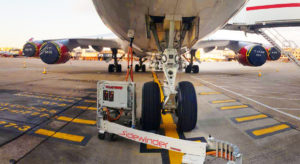 08/04/2020

Alvest with IATA to safely manage GSE storage
One of the governing bodies of our industry, the International Air Transport Association (IATA), has developed together with the Medical Advisory Group (MAG), a reference guide for Ground Handling during the COVID-19 outbreak.
In an effort to support the industry, Alvest group is fully backing the initiative, particularly the detailed and secured steps proposed to manage GSE storage, that can be found on page 11 of the guide – HERE.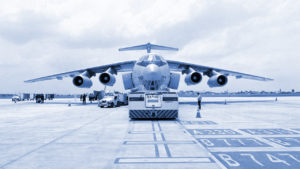 TLD – AERO Specialties – Smart Airport Systems – Alvest Equipment Services
30/03/2020

Smart Airport Systems Continue Worldwide Support.
COVID-19 has now spread globally and is having a huge impact on our aviation industry.
The health and safety of our employees remain our primary concern, however, our mission to serve and support our customers as we continue to reduce airport pollution and increase operational efficiency in these difficult times is still paramount.
The Smart Airport Systems (SAS) sales team and technical support staff are available to assist our customers wherever they may be located, and can be contacted through the website – www.smart-airport-systems.com/contact/
SAS remains dedicated to its environmental conscious airport solutions at all times, and looks forward to continue paving the way for a greener future.
#solutionsforsustainableaviation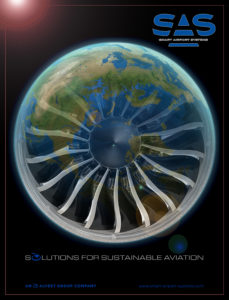 06/03/2020

'TRACTEASY' RECEIVES FURTHER PRAISE FROM IFOY ORGANISATION
The results of the IFOY AWARD's innovation check on the collaborative TLD and Easymile 'TractEasy' – an autonomous electric baggage tractor – have been published.
High scores were awarded.
Their verdict? ✅
"By increasing productivity and reducing operational costs, TractEasy provides more flexibility. Both from a technical perspective with the ability to easily re-allocate the vehicle as well as from a human resource perspective with reduced handling of sick leave, vacations and training. Because the vehicle can be used indoors as well as outdoors, new doors open for autonomous transport in intralogistics."
TractEasy is available from Smart Airport Systems as part of their mission to provide sustainable, environmental, solutions for aviation.
Visit the Smart Airport Systems website for more information on this innovative GSE.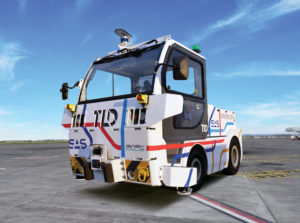 14/02/2020

TractEasy Wins IFOY 'Best in Intralogistics' Certificate.
The forward thinking development teams at Smart Airport Systems and Easymile have been recognised at the IFOY Award for the pioneering joint 'TractEasy' driverless tow-tractor project at this years event held in Hanover, Germany.
The EasyMile team were on hand to receive the certificate for 'Best in Intralogistics' category for the Innovative ground support equipment.
Congratulations to everyone involved in this exciting autonomous transport solution, to be seen at an airport near you soon!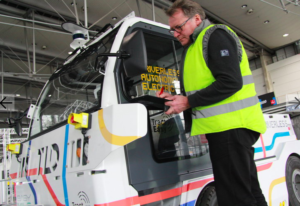 Media