News
12/03/2019

TLD at the Saudi International Airshow
We are delighted to welcoming our customers and friends on our booth at the 2019 Saudi Air Show. All the team had set the scene with our customers in Saudi Arabia for a great TLD GSE exhibition on the tarmac.
Saudi Ground Services great flashy green livery matching the creative and arty fuselages on display!
21/02/2019

Indigo completes Taxibot trials on Airbus A320s
Courtesy of By Satish Nandgaonkar, Mumbai Mirror | Feb 20, 2019
Indigo airlines on Tuesday morning became the first Indian Airbus operator to successfully complete trials for Taxibot operations on Airbus A320 aircraft, and India became the only country where performance evaluation trials for Taxibots have been successfully completed on Airbus A320 aircraft.
The trials were conducted shortly past midnight and early hours of Tuesday at the Indira Gandhi International airport. "All possible operational scenarios were successfully enacted in a live environment with Taxibot attached to an A320 aircraft during the four-hour-long performance evaluation window at IGI Airport, showcasing the handling and operational capabilities of the semi robotic machine," Sanjay Bahadur, Head Corporate Communication & Compliance, KSU Aviation Private Ltd told Mumbai Mirror. KSU has brought the Taxibots to India and Delhi International Airport Ltd (DIAL) has been carrying out the first trials before commencing Taxibot operations at the airport.
Officials from Airbus and Indigo's operations and engineering teams, DGCA officials from Flight Standards Directorate, Taxibot designers from Israel Aerospace Industries, TLD, the manufacturers of the Taxibots, DIAL officials and Taxibot India team were present during the successful trial.
By January 2019, Taxibots had completed 117 live taxibotting missions with actual departing aircraft with passengers on board. Indigo, which has the largest Airbus fleet, and Vistara had received approval from Airbus for taxibot trials. Air Asia will be the third Airbus operator to participate in the trials. Jet Airways and SpiceJet, which has narrow body Boeing 737 aircraft, have also been carrying out taxibotting missions.
Taxibot is a towing tractor that can be attached to an aircraft and controlled by the Pilot in Command (PIC) to steer the aircraft from the apron area to the take-off point without running aircraft engines. This saves costs on expensive aviation fuel used by the aircraft to taxi from the apron area to the take-off point, reduces Co2 emissions and saves taxiing time at busy airports like Delhi and Mumbai.
According to Taxibot India estimate, at six metro airports, which contribute to 65 per cent of air traffic movement in India, the departure taxiing alone emits 6,03,000 tonnes of CO2 and consumes 1,90,000 tonnes of aviation turbine fuel costing USD 240 million.
07/02/2019

TLD and Aerospecialties together at NAIS Moscow 2019
A good example of Alvest integration at the National Aviation Infrastructure Show 2019 exhibition held in Moscow on February 6-7, 2019.
NAIS is a key event in Russia & CIS for showcasing new solutions, technologies and products for civil aviation industry development.
TLD and Aerospecialties attended the exhibition.
10/12/2018

TPX-200-MT Lego model
When passion and creativity join together the results we get are often great. Adding the pleasure of sharing it with your kid makes this transmission even more thoughtful.
Franck TCHA, one of our TLD Shop Floor Supervisor, made this Lego model of our TPX-200-MT with his son. All with existing parts and their imagination. What is unknown to us is who from the father or the son had encouraged the other? The result is true-to-life!
Thank you Franck for this great model !
04/12/2018

Narrow body TaxiBots have arrived at Delhi – Indira Gandhi International airport
The Narrow Body TaxiBot arrived this week at Delhi Indira-Gandhi International airport (DEL).
After Prechecks and operational Training, TLD and their partners IAI and Millennium will support KSU and some of the leading Airlines for field trials and commercial operations.
After more than 350 commercial flights handled at FRA airport, this is a new opportunity to demonstrate the performance of such a green and efficient taxiing in a real airport operation environment.
---
04/08/2018

This July month, TaxiBot has taken a new step towards enhancing airports' future
TLD, IAI entered in an agreement with KSU from India for operating TaxiBot vehicles in New Delhi and Mumbai airports.
As the Indian aviation market is witnessing explosive growth in both aircrafts and passengers traffic (+20% per year over the past three years), Mumbai and New Delhi airports are set to get more environment friendly with TaxiBots. TaxiBot is a semi-robotic vehicle which connects to the aircraft and is controlled by the pilot to taxi the airplane from its airport's parking position to the runway with no use of the aircraft's main jet engines. They can reduce air pollution by reducing emissions from aircraft's engines as well as fuel consumption by a whopping 85%.
Additionally, to these fuel and emissions savings, taxiing with the TaxiBot reduces noise levels by 60% and
foreign object damage by 50% as foreign objects can't be sucked into the aircraft engines if they are not running.
As well, TaxiBot's additional benefit is the streamlining and increased throughput of aircraft entering and exiting the terminal area. The Indian government regards the TaxiBot as a significant means for addressing the grave air pollution issues in airports, which are exacerbating due to the continued growth of air transportation.
TaxiBot are manufactured by TLD in their French factory.
Shaul Shahar, IAI EVP and General Manager of IAI's Military Aircraft Group, commented, "We regard the contract with KSU as a further step in our close collaboration with India in a broad range of areas. We trust the TaxiBot will prove itself effective in reducing air pollution, which is intensifying due to the fast growth of India's aviation market with the significant savings in fuel, FOD (Foreign Object Damage) and improvement in the gates congestion. The TaxiBot is another example of IAI's capability in developing unmanned vehicles of all kinds and customizing breakthrough products to customers' needs. We believe this agreement will open the path for many more significant contracts for this product worldwide." 
Antoine Maguin,
Chief Executive Officer of TLD Group, said, "We at TLD, with our local partner Millennium, are very excited to participate to the deployment of TaxiBot, in real life conditions, on the fast expanding Indian aviation market.  After years of development, heavy testing and certification, for which TLD has worked in cooperation with IAI, the TaxiBot concept and machines have become a reality. It will bring significant benefits to the aviation industry, and in particular strong fuel savings, and to the whole community by improving aviation and airports environmental footprint".
Yogesh Sethi, Founder of KSU Aviation Private Limited, said, "KSU Aviation Private Limited is excited to be associated with TaxiBot Project and proud to commence commercial operations of the TAXIBOT first time in the world in India. This will be a huge moment of pride and glory for Indian aviation as well as KSU aviation to lead by example how aircrafts will be moved on ground in the future. The use of TaxiBot at Indian Airports in the coming five years will bring about a saving of 1.5 Billion dollars to the Indian airlines and further reduce the environmental damage of greenhouse gases by 4 million tons. This would significantly impact the growth of Aviation industry in India."
04/07/2018

The autonomous shuttle bus of Easymile, the EZ10, is at the TLD facility of Sorigny
Our partnership with Easymile moves on. After the first Tracteasy tests (the autonomous TLD baggage tractor JET-16) near Toulouse in the South-West of France, followed by tests in May at a car manufacturing plant in Sochaux, France, Easymile and TLD deploy an autonomous bus EZ 10 on the TLD manufacturing site of Sorigny. With a capacity of 12 people, driving at 25 km/h, the EZ10 will operate daily within our industrial site to transport the employees and the customers during their site visits/tours, from the test rig where all our TLD towbarless and pushback tractors are fully tested, all the way to the corporate restaurant.
The technology embedded in the EZ10 is the same as for the Tracteasy, volume and positioning lidars, GPS, odometer and lasers. This electrical shuttle bus drives fully autonomously, from a station to another, scanning permanently the environment to adapt to it permanently and react to any unexpected fix or mobile obstacles. We are looking forward to your next visit in Sorigny to experiencing a new journey on-board the EZ10!
14/03/2018


RBL, the last belt loader developed by TLD
The RBL (Regional Belt Loader) is the latest product developed by TLD at its Saint Lin factory in France. This innovative belt loader addresses the unique requirements for regional/narrow body aircraft up to A320 series and B737. The RBL is self-propelled unit offering enhanced features and additional versatility to currently available towable and the walk behind belt loader models.
Learn More
09/03/2018


Autonomous Vehicles
Automation systems once only moved within the Science Fiction world, populating the dreams of generations of Star Trek fans, but have now dramatically accelerated over the last few years to be a part of our daily life. The development of available technologies to meet growing needs has influenced this acceleration but warp drive speeds were reached with the developments of TESLA or Google Cars (today known as WAYMO), forcing society to accept this reality and start to adapt to it. Star Trek fans now manage our R&D centers!
Learn More
06/12/2017

Aero Specialties is committed to humanitarian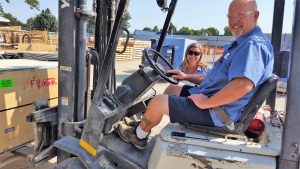 Cheerful greetings, conversations about family members, or simply delivering an employee a much-needed cup of coffee are standards for us at AERO.  Our compassion leads the way in all we do during our work days so, it's of little surprise when our Traffic Coordinator, Christine Burke, suggested we contribute to the victims of Hurricane Harvey.  No sooner was it suggested that it became all hands-on deck!   Within 24 hours, with the coordination of Michael Wagner, Purchasing, and Scott Sawyer, Packing and Shipping, and with the generosity of Pilot Freight, hundreds of dollars of non-perishables were sent to the Red Cross for distribution to the disaster and rescue centers throughout the area devastated by Hurricane Harvey.
It's not altruism that compels us, at AERO, to reach out to those in affliction.  It is our heart and we wear it proudly.
Media