News
06/12/2017

Aero Specialties is committed to humanitarian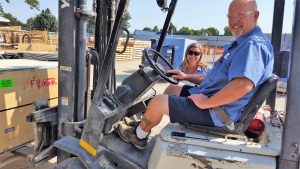 Cheerful greetings, conversations about family members, or simply delivering an employee a much-needed cup of coffee are standards for us at AERO.  Our compassion leads the way in all we do during our work days so, it's of little surprise when our Traffic Coordinator, Christine Burke, suggested we contribute to the victims of Hurricane Harvey.  No sooner was it suggested that it became all hands-on deck!   Within 24 hours, with the coordination of Michael Wagner, Purchasing, and Scott Sawyer, Packing and Shipping, and with the generosity of Pilot Freight, hundreds of dollars of non-perishables were sent to the Red Cross for distribution to the disaster and rescue centers throughout the area devastated by Hurricane Harvey.
It's not altruism that compels us, at AERO, to reach out to those in affliction.  It is our heart and we wear it proudly.
15/11/2017


KLM has awarded to TLD the replacement of its Lower Deck Loader with a full electric fleet, recognizing the performance of the TXL-838-reGen®
As part of its Green strategy, KLM has awarded to TLD the replacement program of its Lower Deck Loader fleet. The decision has been made by KLM to move to a full electric fleet and the selection of TLD as a partner has followed almost a year of performance assessment of the TLD TXL-838-reGen alongside its competitors in the market.
Learn More
16/10/2017


TLD and EasyMile announced a partnership to develop TractEasy, the first autonomous baggage tractor
Ground Support Equipment, as many other driving machines, are experiencing a technological revolution with the development of Assistance and Automation systems that will change the ramp operating environment in the coming years.
Learn More
16/10/2017


TLD has been awarded the prestigious International Industry 4.0 award from the Global Smart Factory summit
An international jury of "Smart Factory Experts" have awarded TLD the International Industry 4.0 for Horizontal Integration in recognition of our latest industrial performance developments, especially in the domain of integration of our whole value chain.
Learn More
16/10/2017


TLD Exhibits at Inter Airport Europe this Fall in Munich
TLD will be participating in the 21st Inter Airport International Exhibition of Equipment, Technology, Design and Airport Services this October 10 -13 in Munich, Germany. Exhibiting with TLD at this industry premier event will be other subsidiaries of the ALVEST group, SAGE Parts & AERO SPECIALTIES.
Learn More
27/06/2017


TLD INVESTS IN THE PAINT PROCESS
Surface treatment is a key aspect of the GSE production process. It not only ensures an optimal Quality level for long term rust protection, but is also an important factor in our Environment, Health & Safety policy (EH&S).
Learn More
17/05/2017


The TaxiBot, already certified on B-737, now certified on the Airbus A320 family
The TaxiBot is now certified for commercial use on all members of the A320 family
Learn More
16/05/2017


The TLD reGen loader delivers its promises
The TLD TXL-838-reGen, a 7 ton, battery-powered loader, is increasingly becoming the market reference for performance and autonomy, thanks to its innovative concepts and the input from our customers
Learn More
29/03/2017

Launch of the new ALVEST website!
ALVEST team is proud to announce the launch of its brand new website!
Over the past couple of weeks we have been working closely with graphic designers in order to substantially remodel the existing ALVEST website. The new site includes a comprehensive description of each ALVEST subsidiary: TLD, SAGE PARTS, AERO Specialties and Adhetec, with direct links to each individual website and an array of corresponding images.
Our design is simple but effective, and conveys a clear message of who we are, what we do, and what we stand for.
We will continue to communicate regularly through our News and Media section, which will also include news articles, brochures and other online documents from our subsidiaries.
01/03/2017


TLD LSP-900-V-e
TLD's fully electric powered vacuum aircraft lavatory servicing vehicle!
Learn More
Media