News
21/07/2021

Changi Airport Embrace SAS Autonomous Baggage Tractor Solution
Forward thinking Changi Airport, Singapore is another airport that has been exploring the way in which technology can be used to streamline daily operations in a safe and environmentally friendly manner.
The airport has recently embarked on proof of technology trial with the Smart Airport Systems (SAS) TractEasy, autonomous baggage tractor, in their Terminal 3 location.
Airside workers engage in numerous tasks as part of airside operations including the transportation of passenger baggage between the aircraft and BHA. Subsequently, baggage tractors constitute the largest fleet of airside vehicles. The automation of these tractors would free up valuable staff to carry out more skilled airport duties requiring human interaction.
Working very closely with the Changi airport, SAS refined the TractEasy solution to meet the specific requirements of the airside operations and to facilitate a smooth integration.
The trial initially commenced in May 2020 with non-airside selected routes, however next month will see TractEasy servicing its first live aircraft as it continues its journey in reducing airside emissions, improving operational efficiencies and most importantly…paving the way for a greener aviation industry.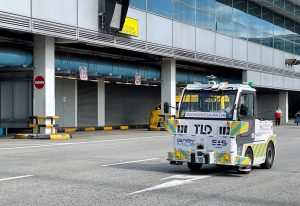 08/06/2021

Titan Aviation Join TLD in Electric GSE Partnership
The electric revolution continues!
Delivery of a 100% electric TITAN-eTR3 refuelling trailer to TITAN AVIATION® Avignon, France.
These refuelling trailers were designed in partnership with TLD who also provided the 100% electric #Jet16 baggage tractors.
La révolution électrique continue !
Livraison d'une remorque d'avitaillement 100% électrique TITAN-eTR3 à Avignon, France.
Ces remorques d'avitaillement ont été conçues en partenariat avec @TLD qui nous a fourni un tracteur #Jet16 100% électrique.
TLD continues its mission to Help Make Aviation Leaner & Greener.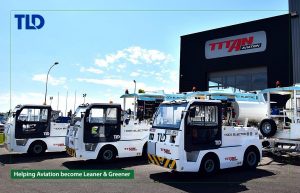 24/05/2021

Alvest Group Companies Maintain Strong Presence at The Airport Show 2021
The doors have opened for day 1 of The Airport Show being held this year at the Dubai World Trade Centre.
Alvest will have three of its group companies present, (TLD, Smart Airport Systems and AERO Specialties), to offer a comprehensive all-encompassing GSE experience for visitors to the booth and will include the latest smart aviation and environmentally considerate ramp solutions to help aviation become leaner and greener!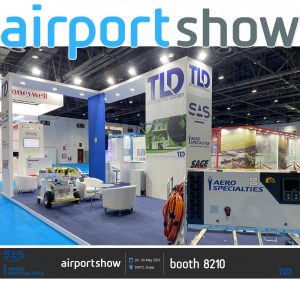 20/05/2021

TLD TPX-200-XE part of the Air France Sustainable Aviation program
Along with all other partners, TLD is proudly participating today in this important mission "helping aviation become leaner and greener".
On May 18th 2021 flight #AF342 from Paris-CDG to Montreal-YUL departed swiftly using the state of the art all electric TPX-200-XE pushback tractor as it left the gate in Paris.
The Air France A350 committed to this flight used a fuel mix including 16% SAF (Sustainable Aviation Fuel) produced by Total, in France, with recycled cooking oil.
This participation of TLD illustrates our ambition and our commitment towards environmental transition of aviation and air transport, being smart and innovative.
Learn More
15/02/2021

TaxiBot Features in Latest Solar Impulse Video Press Release
To address environmental challenges while enabling economic growth, the Solar Impulse Foundation was launched with a challenge to select 1000 industry solutions, that can protect the environment in a profitable way and present them to decision-makers to fast-track their implementation.
Smart Airport Systems (SAS), an ALVEST Group company, is a proud member of the foundation and continues to develop sustainable solutions for aviation through the generation of fuel savings, the reduction of noise and polluting emissions and increasing operational efficiencies.
The latest press release from the The Solar Impulse Foundation features the SAS semi-robotic hybrid twin vehicle – TaxiBot.
You can view the full video on the SAS LinkedIn platform HERE.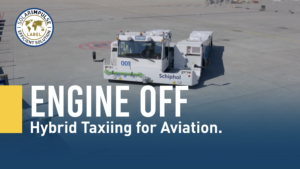 01/02/2021

Schiphol Tests Self-Driving Baggage Tractor
***PRESS RELEASE***
Schiphol has started a trial with an autonomous baggage tractor that will take baggage to the aircraft on the apron. The aim of the trial is to discover whether this technology is safe and efficient and how self-driving vehicles can be integrated with other traffic at the airport. The trial, which will last until the end of the month, is being carried out in collaboration with KLM Ground Services and Smart Airport Systems (SAS). 
The trial will start in a defined area in which the baggage process is simulated. In the second phase, the trial will be continued in an operational environment to bring baggage to the aircraft. The self-driving vehicle will be loaded in the baggage area, after which it will navigate to an aircraft stand via a fixed route. During all the trials with the baggage tractor, there will be a safety operator in the autonomous vehicle to stop the vehicle if necessary. The self-driving vehicle was made by ground-handling equipment supplier TLD, with EasyMile supplying the autonomous software.
Rotterdam The Hague Airport and Eindhoven Airport will also be testing autonomous baggage tractors this spring. There, the airports will be testing this technology in conjunction with Vanderlande.Royal Schiphol Group anticipates that by 2050, the daily operations on the apron at the airports will have changed significantly. The ground-based airport activities (e.g. baggage transport, passenger transport and aircraft towing) will not only be clean, but also smart and autonomous. The aim is ultimately to replace all vehicles on airside with an interconnected fleet of self-driving, emission-free vehicles, in order to guarantee and improve quality in the long term.
Watch the video on the SAS LinkedIn social media page HERE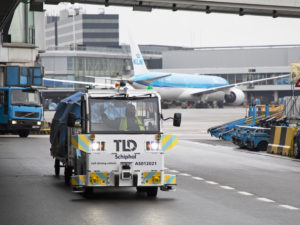 06/01/2021

AERO Specialties Featured in FBO Today Publication
AERO Specialties, an Alvest Group Company, is not only featured on the front cover of the latest edition of the Business Air 'FBO Today', but is also profiled within the publication through the supply and installation of GSE to the new 'Million Air' fixed-base operator (FBO).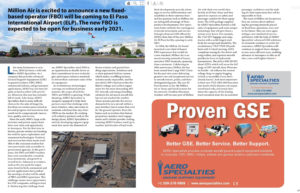 16/12/2020

Seasons Greetings to One and All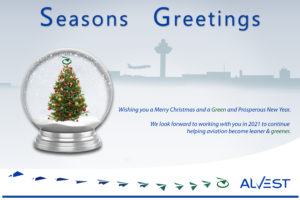 17/11/2020

Alvest Joins the United Nation Global Compact Program
Alvest is pleased to announce its commitment to the United Nation Global Compact Program as it aligns a significant amount of its ideals and goals with those of the program.  The program seamlessly dovetails with the beliefs, ethics and policies within Alvest and its entities to become environmentally responsible in every aspect of its business.
ALVEST has a goal to be a major contributor to the conversion of airport and aviation to safer, greener and leaner operations around the world.
This is our engagement as our industry needs to control and reduce its impact on the environment and to bring a positive human and social contribution to the society and the people. The achievement of our goal is supported by our long-term vision, our culture and values that are rooted in service, integrity, transparency and accountability vis-à-vis all our stakeholders.
From design to manufacturing to selling, ALVEST is committed to follow the path laid by the United Nations Sustainable Development Goals as detailed in our Group Environmental, Social and Governance Principles. We pride ourselves in serving this purpose with the greatest care for our global eco-system:
We recognize a shared responsibility to protect our planet. As such, reducing our environmental footprint and contributing to the reduction of the environmental footprint of the aviation industry, through our products and services, is one of our key objectives. We are committed to promoting circular economy whenever practical, to using sustainable resources and sourcing responsibly.
We take seriously our responsibilities to protect, support and offer fulfilling development opportunities to our employees. Our efforts are focused on providing equal opportunities and training to our employees.
We proactively pursue dialogue with all our stakeholders. We value transparency in the information we provide and do the utmost to act with integrity, build trust and create value to our customers and business partners. We aim to contribute to the economic and social development of the regions in which we work.
We are actively involved in setting international standards for an ethical and responsible aviation industry. We adhere to the principles set out in our Code of Ethics and Business Conduct and we strongly believe that it is also our responsibility to make our best efforts to ensure that our business partners act with honesty and observe the same ethical principles.
Our policy strives to ensure that all the above commitments are implemented by all our employees and business partners and pursued company-wide in all our day-to-day tasks.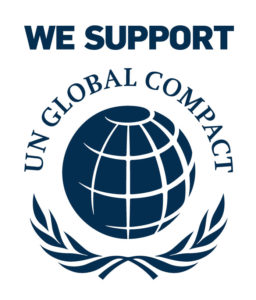 01/10/2020

TLD Confirmed as Platinum Sponsor at 22nd Annual GHI Conference
TLD will be exhibiting at the 22nd Annual Ground Handling International Conference being held at the Bella Centre, Copenhagen later this year.
This important industry conference will run from 30th November to 2nd December and as one of the few opportunities for our customers to engage with us face-to-face within a conference environment this year, it's import we spread the word and let the industry know where they can find us in person during these challenging times.
The conference will strive to unite the worlds aviation community by offering socially distanced meetings and networking to allow the community to re-engage with each other.
Not only will TLD be available on booth E32 to re-connect with valued customers, and introduce our GSE to a new audience, but we will also be a Platinum Sponsor for the entire event.
More information HERE
Support our Social Media campaign HERE

Media