News
03/11/2022

Saudi Airport Exhibition 2022
Saudi Airport Exhibition will be the largest dedicated event for airport development in Saudi Arabia, attracting thousands of global industry officials, suppliers, investors and professionals.
TLD is pleased to announce its attendance at this important Middle East aviation exhibition and will be on stand 3109 with our sales team and technical advisors.
Join us for this important 2-day event, and find out just why TLD is a market leader in the design, manufacture and distribution of Ground Support Equipment.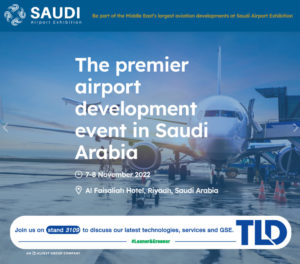 18/10/2022

TaxiBot Feature in Latest GHI Publication
The TLD / Smart Airport Systems / IAI – Israel Aerospace Industries collaborative TAXIBOT features centerspread of the latest October edition of Ground Handling International.
This ground-breaking environmentally friendly ground support equipment is now being rolled out in Canada.
Check out https://lnkd.in/eq488h2Q for more details.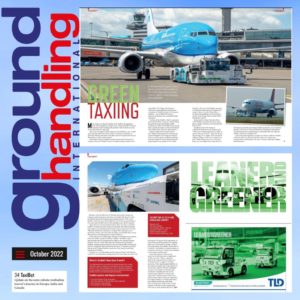 08/09/2022

5 Days Until GSE Expo Europe Opens its Doors to the Aviation Community
GSE Expo Europe offers you the opportunity to meet 7 Alvest companies in one location…including TLD.
GSE manufacturers, service providers, and component suppliers will be available to discuss your airside requirements alongside the latest environmentally considerate equipment.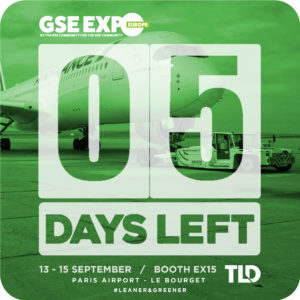 02/09/2022

Alvest Women's Network
The Alvest Women's Network encourages women throughout the entire Alvest Group to come together in a number of organised events to offer the opportunity to listen, understand or recognize, but also to propose and build a more inclusive work environment.
Allowing stronger communication among our teams is always welcome, and local initiatives are essential to creating opportunities to drive ourselves forward individually, and also as a team.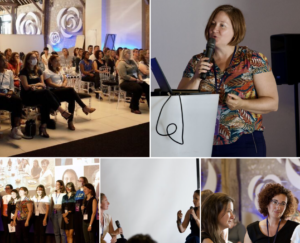 05/08/2022

Alvest Group Companies Exhibit at GSE Expo Europe 2022
"Calling all ground handlers, airlines and airports – this is a brand-new event designed by leading manufacturers at IAEMA to help ensure your GSE strategy is ready for the post-pandemic age.
Our guiding Expo themes include: autonomous vehicles; sustainable GSE, new battery tech and advanced safety innovations.
Join us at GSE Expo Europe where you can gain crucial insight on the latest advances from 100+ confirmed exhibitors.
As well as enjoying quality dialogue with these product experts on stand, we will be putting GSE solutions to the test at our live outdoor Demo Zone.
And, the Expo will incorporate an indoor Innovation Zone to shine a light on the groundbreaking new technologies heading for the ramp and what they could do to boost your KPIs."
Visit the expo to discuss, explore and witness the very latest environmentally green GSE on offer from 7, (YES 7!), Alvest Group companies!
Register now for your free-to-attend place at GSE Expo Europe, 13-15 September. https://lnkd.in/dCPt-zm6
We look forward to welcoming you to Paris for this exciting new show being hosted by Paris Airport-Le Bourget.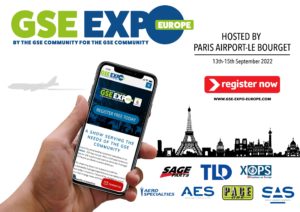 06/07/2022

BH INTERNATIONAL AIRPORT TO OFFER BRAZILS 1ST ALL-ELECTRIC TURN-AROUND
TLD is proud to be heavily involved with a new project developed in partnership with Real Aviation Services and BH Airport The project involves an investment of more than BRL 30 million and will exclusively serve 100% of the company's flights in Belo Horizonte until the end of 2023.
The partnership's objective is to assist the LATAM Airlines Group on its journey to be a 100% carbon neutral company by 2050. The volume of CO2 that will no longer be emitted corresponds to the equivalent consumption of diesel-powered equipment
This week, LATAM becomes the first airline in Brazil to use 100% electricity in ground operations. This is because, as of this Tuesday (28/6), the Ground Handling* operation of at least 50% of the company's flights in Belo Horizonte/Confins (the equivalent of 10 daily flights currently) will be completely carried out by equipment powered by electricity instead of diesel exclusively. The initiative will make LATAM stop emitting 114 tons of CO2 in the next 12 months at the Minas Gerais airport. This volume corresponds to the CO2 equivalent consumption of diesel-powered equipment used to service your operation today.
The pilot project received an investment of more than R$30 million and was developed in partnership with Real Aviation and BH Airport. The action is fully connected with the renewed Sustainability strategy of the LATAM group, announced in 2021. In the Climate Change pillar, the group aims to be a 100% carbon neutral company by 2050.
"This is a clear step by LATAM towards more sustainable aviation. We are already taking concrete steps at this time and in this direction, to prioritize partners with solutions that contribute to the reduction of the carbon footprint. Our commitment is to move forward so that we can expand this and other initiatives to all the airports we fly to", says Jerome Cadier, CEO of LATAM Brazil.​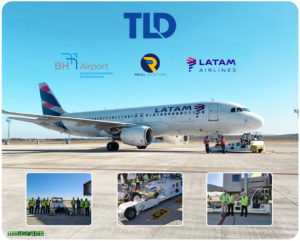 13/06/2022

AirAsia India Deploys TaxiBot at Bengaluru Airport
PRESS RELEASE
AirAsia India deploys revolutionary TaxiBot operations at Bengaluru International Airport National, 10th June 2022: As one of the key initiatives during Tata Sustainability
Month, AirAsia India today flagged off the commencement of TaxiBot operations at Bengaluru International Airport, following successful trials and subsequent implementation at Delhi International Airport. The flag-off event was attended by Mr Sunil Bhaskaran, MD & CEO, AirAsia India, Capt. Manish Uppal, Head of Operations, AirAsia India, Mr Hari Marar, MD & CEO, Bangalore International Airport Limited and Mr Murali Ramachandran, CEO, Celebi Aviation. With the commencement of TaxiBot operations in Delhi in February this year, AirAsia India became the first airline globally to initiate TaxiBot services with passengers onboard modified aircraft. AirAsia India tied up with KSU Aviation, the exclusive operator of the TaxiBot in India.
TaxiBot is a semi-robotic aircraft towing device that is a green alternative to save fuel, reduce CO₂ emissions and noise pollution, decrease aircraft wear and tear, and minimise instances of Jet Blast and Foreign Object Damage, improving efficiency and enhancing safety in the parking area. TaxiBot is an alternate taxiing solution which can tow aircraft from the aircraft boarding gate to the active runway without utilising the aircraft engines.
"We're proud to be the first airline globally to initiate TaxiBot services on modified aircraft with passengers on board. Following the successful trials and implementation in Delhi, we are delighted to be commencing TaxiBot operations at our largest hub, Bangalore, as well. In addition to driving the adoption of sustainable aviation, TaxiBot leverages technology to drive differentiation and efficiency in operations, leading the way forward for a cleaner and greener ecosystem." said Sunil Bhaskaran, MD & CEO, AirAsia India.
Hari Marar, MD and CEO, Bangalore International Airport Limited (BIAL) said, "We are the second airport globally to deploy a TaxiBot at our airside operations. With AirAsia India adopting this state-of-the-art technology at BLR airport, we are positive that this will further ensure adoption by more airline partners as a part of their day-to-day operations. Environmental sustainability coupled with the vision of leaving a cleaner and better world for our future generations has been at the heart of BIAL's sustainability initiatives. We take pride in accomplishing energy neutrality, water positivity and reducing our carbon footprint thereby ensuring that BIAL continues to remain at the forefront in driving sustainability." Dr Ashwani Khanna, Director, KSU, said "AirAsia India has emerged as a trendsetter in alternate taxiing solutions by further deploying TaxiBot Operations to their second Base Airport i.e. KIA, Bangalore Airport. M/S KSU Aviation in close coordination with its stakeholders envisages phased deployment of 07 TaxiBot units in the next 05 years at KIA Airport, Bangalore, this would assist the airport operator and airline to jointly reduce ~35,000 Tons of Carbon Emission annually at KIA Airport, Bangalore."
TaxiBot is proclaimed as the green revolution in aeroplane taxiing, helping enhance fuel efficiency and predictive maintenance and services. As a Tata Group company, AirAsia India is celebrating Tata Sustainability Month (TSM) this June, which endeavours to build a group-wide sustainability culture in alignment with the airline's sustainability goals.
ENDS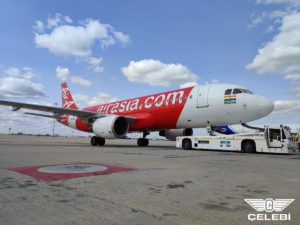 23/05/2022

AERO Specialties Set Up for EBACE 2022
EBACE 2022 offers future-forward aviation technologies including everything from high-tech small aircraft through ultra-modern intercontinental jets, advanced air mobility and eVTOL aircraft, state-of-the-art avionics; and manufacturers.
AERO Specialties, an Alvest company, will be in attendance at this important aviation European event to introduce their GSE and services on booth X67 and continues their 2022 exhibition promotion program.
#AEROSpecialties #SmartAviation #AlvestCompany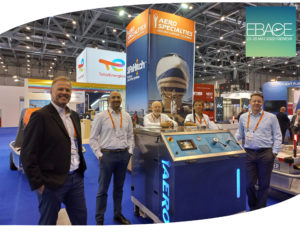 25/04/2022

Strong Alvest Presence at GSE Expo Europe 2022
TLD will be among a number of Alvest entities that will be present at the GSE Expo Europe event when it takes place on the 13th-15th September 2022 at Paris Le Bourget.
Key focuses of the show will be product innovations and technologies that improve safety, autonomous GSE and hybrid/electrical vehicles and battery technology…which are all areas that TLD has been heavily involved with for some years.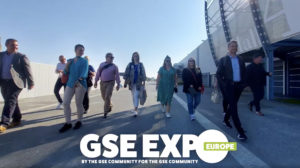 22/02/2022

Schiphol Confirms TaxiBot Procurement
Schiphol is going to buy two Smart Airport Systems TaxiBots, special towing vehicles that enable aircraft to taxi sustainably. Schiphol is Europe's first airport to start using TaxiBots. The investment is part of Schiphol's plan to speed up the process of making aviation more sustainable and is an addition to the investments the airport previously decided to make.
"2022 is a crucial year for sustainability in the aviation sector. We are accelerating measures to reduce emissions and improve local air quality. That's important for the climate, our employees and local residents. We're Europeans first and one of the few airports worldwide working on implementing sustainable taxiing on a large scale. Schiphol is a frontrunner, which makes me proud," says Dick Benschop, CEO of Royal Schiphol Group.
Sustainable Taxiing  
The sustainable taxiing process sees aircraft being taken to and from the runway by a special towing vehicle whereby the aircraft engines stay largely switched off. Schiphol is buying two of these special vehicles from Smart Airport Systems; they will arrive at the airport in mid-2022. There are currently a few TaxiBots in use at two Indian airports around the world.
A previous pilot study at Schiphol showed that sustainable taxiing leads to around fifty percent less fuel consumption during taxiing and therefore lowers CO2, nitrogen and ultrafine particle emissions. Given the distance involved, these fuel savings can reach up to 65% percent when aircraft taxi to the Polderbaan.
Standard Procedure
Schiphol has drawn up a plan together with Air Traffic Control the Netherlands (LVNL), KLM, Transavia, Corendon Dutch Airlines and ground handling companies dnata and KLM Ground Services to ensure that sustainable taxiing will be standard procedure at Schiphol. The first step will be the deployment of these two special aircraft towing vehicles for a follow-up pilot study at Schiphol, in which TUI, Viggo and Swissport will also participate. This pilot will transition to a standard procedure, with certain types of aircraft taxiing sustainably to and from the Polderbaan runway.
Preparations Underway
Modifications to infrastructure are already being made in order to make sustainable taxiing to and from the Polderbaan a structural possibility. These changes will be implemented before the follow-up pilot begins. One example is the markings on the asphalt that ensure aircraft stop in the right place so that they can be disconnected from the towing vehicle. Roads also need to be widened to enable the special vehicles to drive to and from the Polderbaan before and after taxiing has taken place without disrupting other (taxiing) traffic.
Royal Schiphol Group wants to operate the most sustainable airports and aims to have an emission-free ground operation at its Dutch airports by 2030.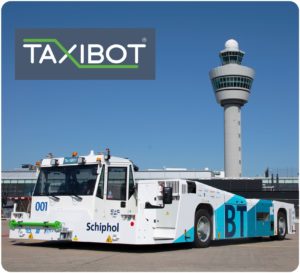 Media